2020 Recognition Awards
Thank You to Our 2020 NJECC Campaign Coordinators, Partners, and Agencies for Making Last Year's Campaign Successful!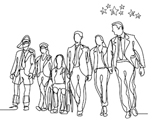 We don't just raise money for nonprofits, we change the world by helping these amazing nonprofits live up to their inspiring visions. Thanks to the dedication and enthusiasm of the NJECC's campaign coordinator, partners, and agencies last year, we raised more than $739,000 of critical funding to support those amazing nonprofits.
Leading the Way – Top 3 Campaigns in 2020
Rutgers University
Atlantic County Utilities Authority
NJ Department of Transportation
2020 Chairperson's Awards
In recognition of Business Units who increased in BOTH donations and in participation.
Board of Public Utilities
Cape May County Technical School Dist.
Casino Reinvestment Development Auth.
Evesham Township School District
Kean University
Moorestown Township School District
NJ Department of Children & Families
NJ Department of Labor & Workforce Dev.
NJ Department of Law & Public Safety
NJ Economic Development Authority
Northern Burlington County School District
Rowan University
The College of New Jersey
Thomas Edison State University
2020 Champions in Giving Awards
In recognition of Business Units who increased either in dollars raised OR number of donors.
Absecon City School District
Cherry Hill Township School District
Civil Service Commission
Edgewater Park Township School District
Egg Harbor Township School District
Longport Borough
Mercer County Community College
Middlesex County Improvement Auth.
Monmouth County Government
NJ Department of Human Services
NJ Higher Ed Student Assistance Auth.
NJ Office of Legislative Services
NJ Pinelands Commission
Northfield City School District
Ocean County College
Ocean County Government
Ocean County Utilities Authority
Public Employees Relations Comm. (PERC)
State of NJ Office of Public Defender